Organic Darkwoods Espresso Coffee Profile
Much like the ecosystem of its namesake, our Organic Darkwoods Espresso gets its complexity from a lush mix of components, each with its own special attributes. In this article we'll dive deep into all of those attributes and how they came from farms abroad to your cup — but as a taster, think sweet cherry and caramel notes with a smoky finish, a medium-dark roast crafted for espresso but delicious also as drip or French press.
No matter how you like your coffee, understanding its origins, its processing methods, and the nuances of its flavour profile can make the difference between a good cup and a great cup that you crave day after day. It also helps to know the impact a coffee has beyond the cup — on the farmers who grow it, the communities nearby, and the natural ecosystems along the entire farm-to-cup journey. That's why we're eager to acquaint you with our Darkwoods Espresso and how it helps protect people and planet. Read on to learn all about this carefully crafted coffee!
In this article, we'll cover the following topics:
What does the Darkwoods Coffee taste like?
Organic Darkwoods Coffee attributes at a glance
Origins: Where does the Darkwoods Coffee come from?
Darkwoods Coffee processing methods
How is the Darkwoods Coffee roasted?
Darkwoods Coffee certifications
How does the Darkwoods Coffee protect nature?
What's the best way to brew our Darkwoods Coffee?
FAQs about the Darkwoods Coffee
WHAT DOES THE DARKWOODS COFFEE TASTE LIKE?
Brewed as espresso, the Organic Darkwoods Coffee has a smooth, supple body with a rich flavour profile that reminds us of molasses, red fruit, and dark chocolate. The Peruvian beans in this beautiful blend lend a touch of sweetness to the smoky ones from Sumatra, while the Ethiopian component brings a splash of fruit that becomes even juicier when brewed as drip. Great on its on but especially luxurious with milk, the Darkwoods Coffee is a favourite among Farm & Forest fans.
Strong enough to power your day but sweet enough for a gentle awakening, the Darkwoods Coffee is how we get up and go. From day hikes and beach clean-ups to tournaments and ten-hour work days, this espresso was crafted to fuel whatever the day brings. Pair it with oats and nuts for a high-octane breakfast, refuel with a spicy jerky and a side of espresso, or drop a biscotti in a freshly-brewed cup for a well-deserved treat.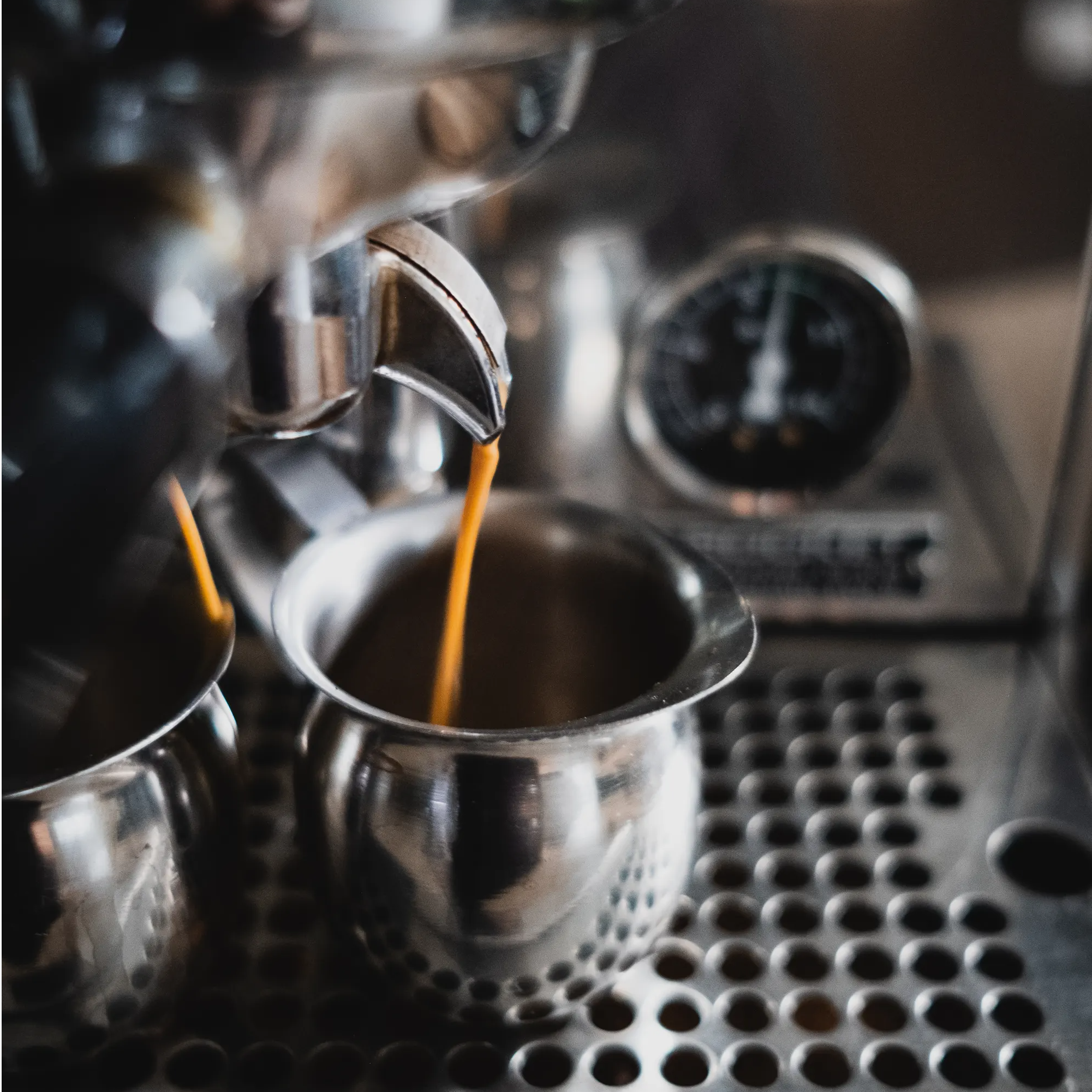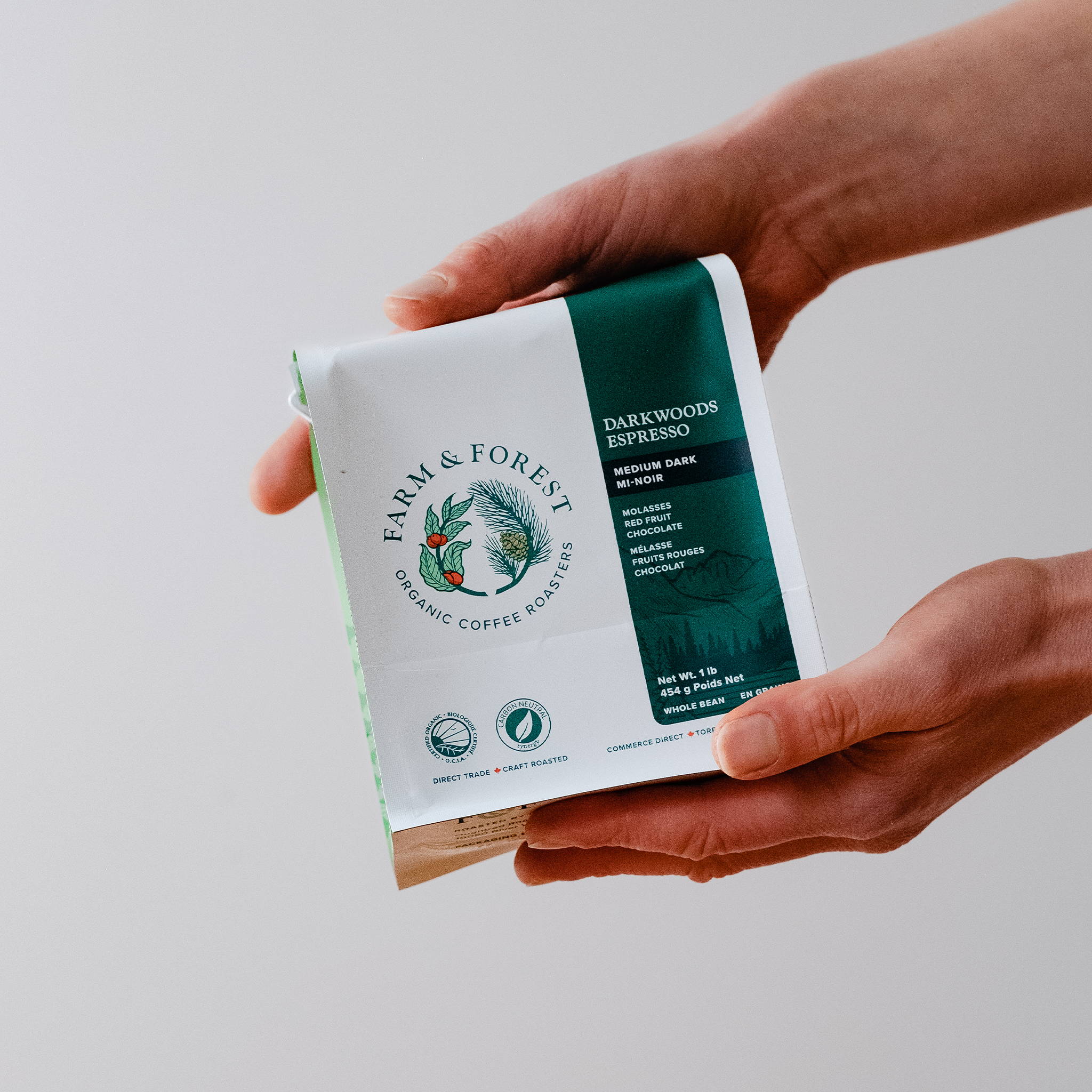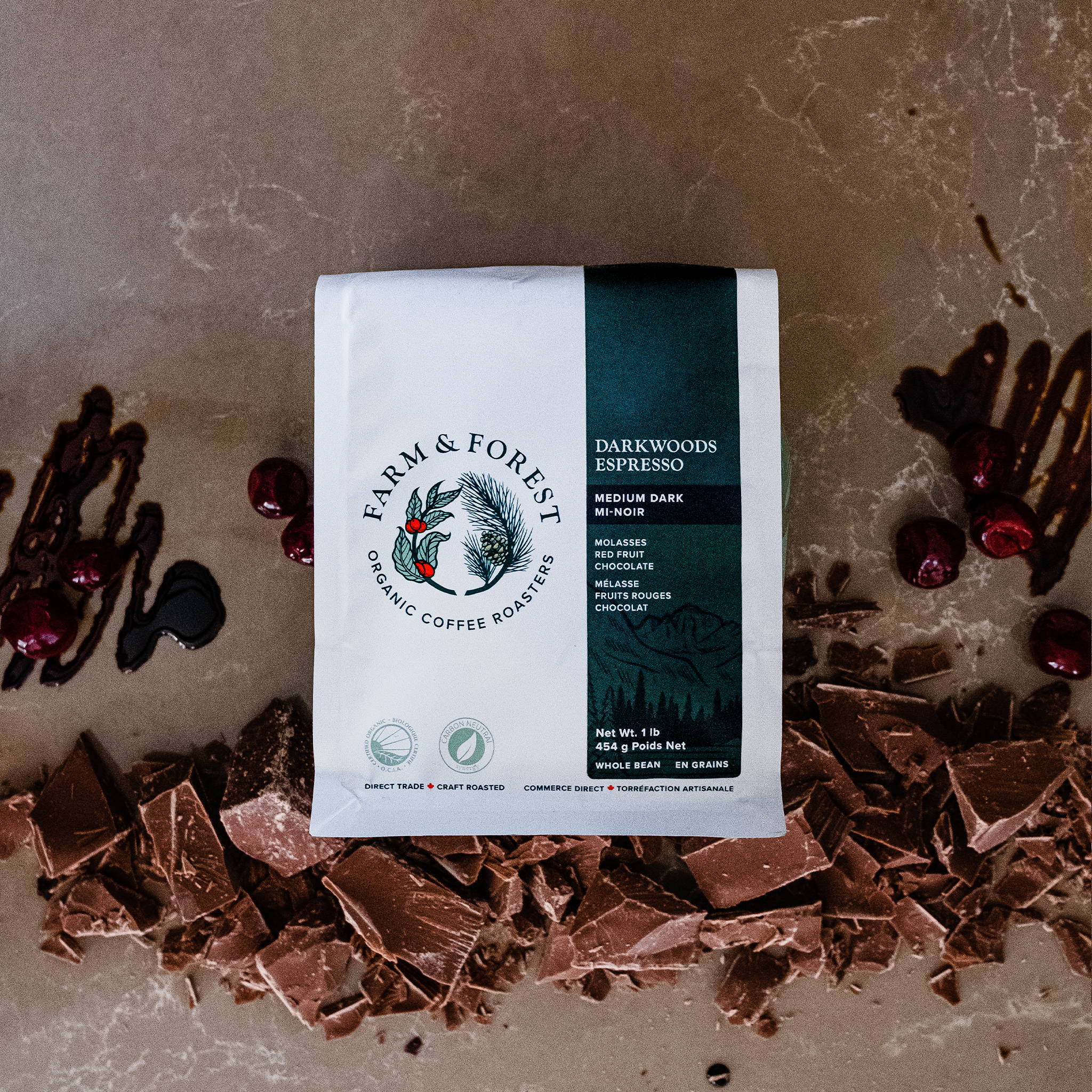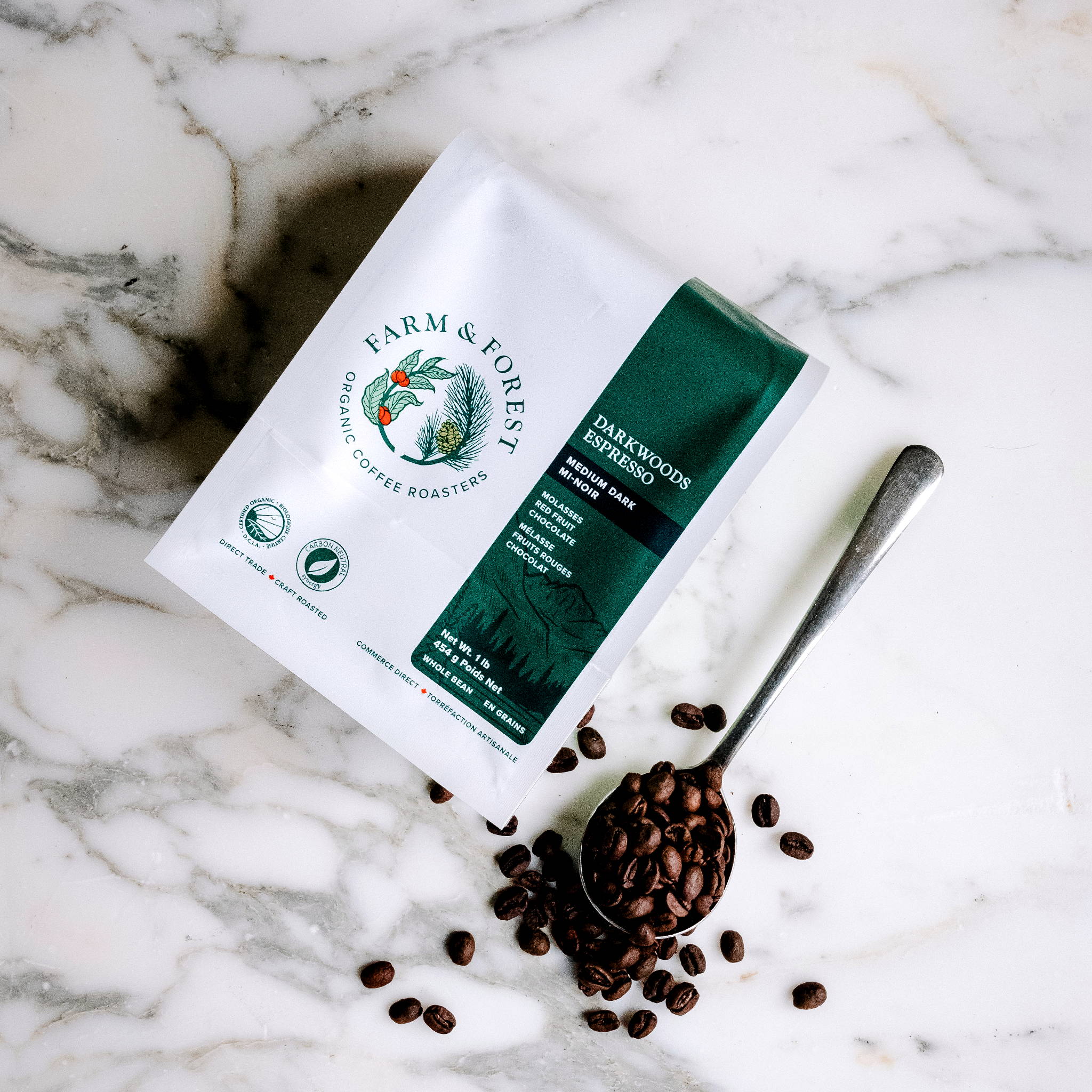 ORGANIC DARKWOODS COFFEE ATTRIBUTES AT A GLANCE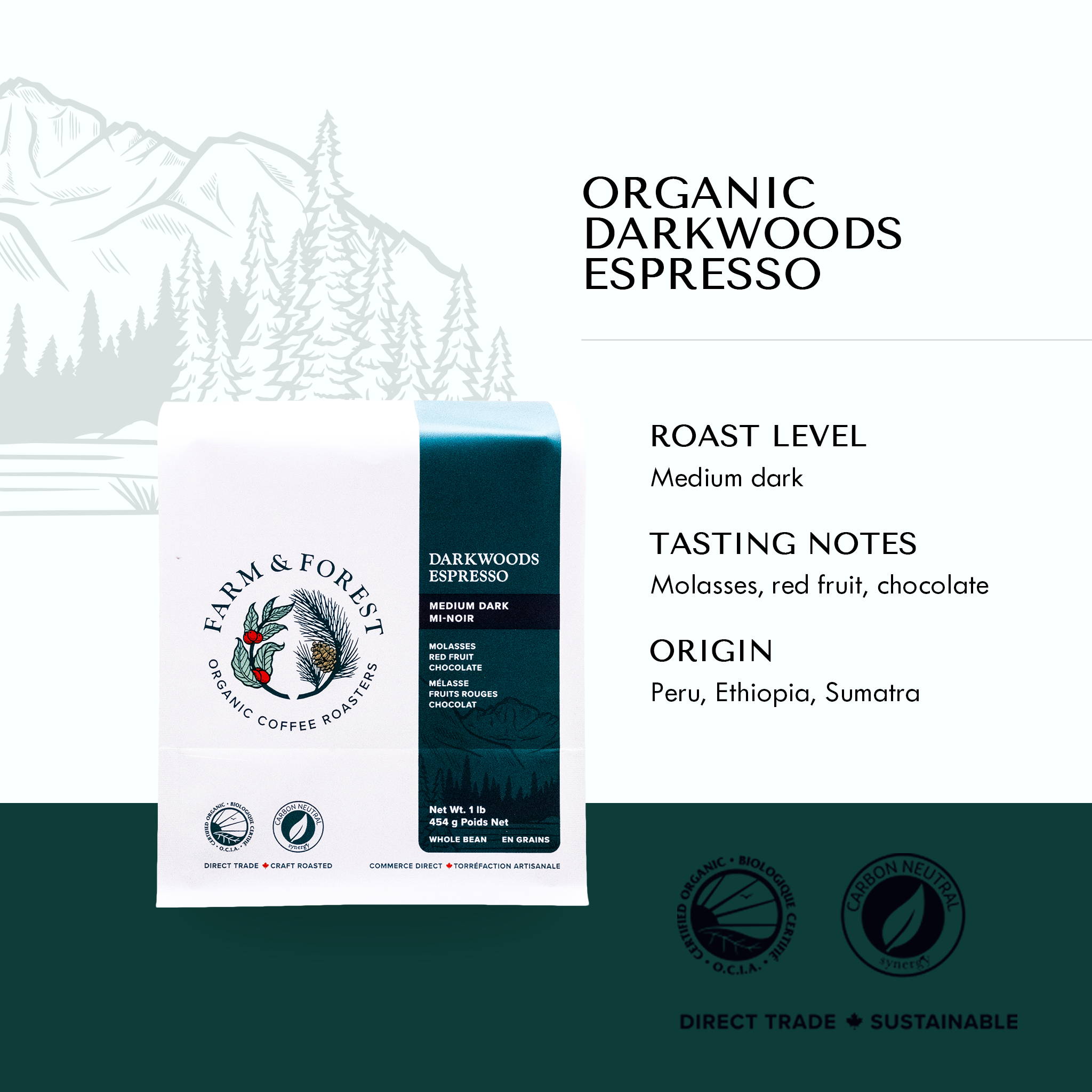 Certifications: OCIA Certified Organic, Direct Trade, Carbon Neutral
Growing Regions: Cajamarca, Peru | Limmu, Ethiopia | Aceh, Sumatra
Process: fully washed | raised beds | wet-hulled
Altitude: 1500-2200 MASL
Roast Level: medium-dark roast
ORIGINS: WHERE DOES THE DARKWOODS COFFEE COME FROM?
All of the coffees we use at Farm & Forest come directly from our partners in some of the world's finest coffee-growing regions, whose organic farming practices enhance the wellbeing of both their communities and the local ecosystem. The Darkwoods Coffee is a blend of specialty-grade (rated 80 or above on a 100-point scale) certified organic coffees from Peru, Ethiopia, and Sumatra.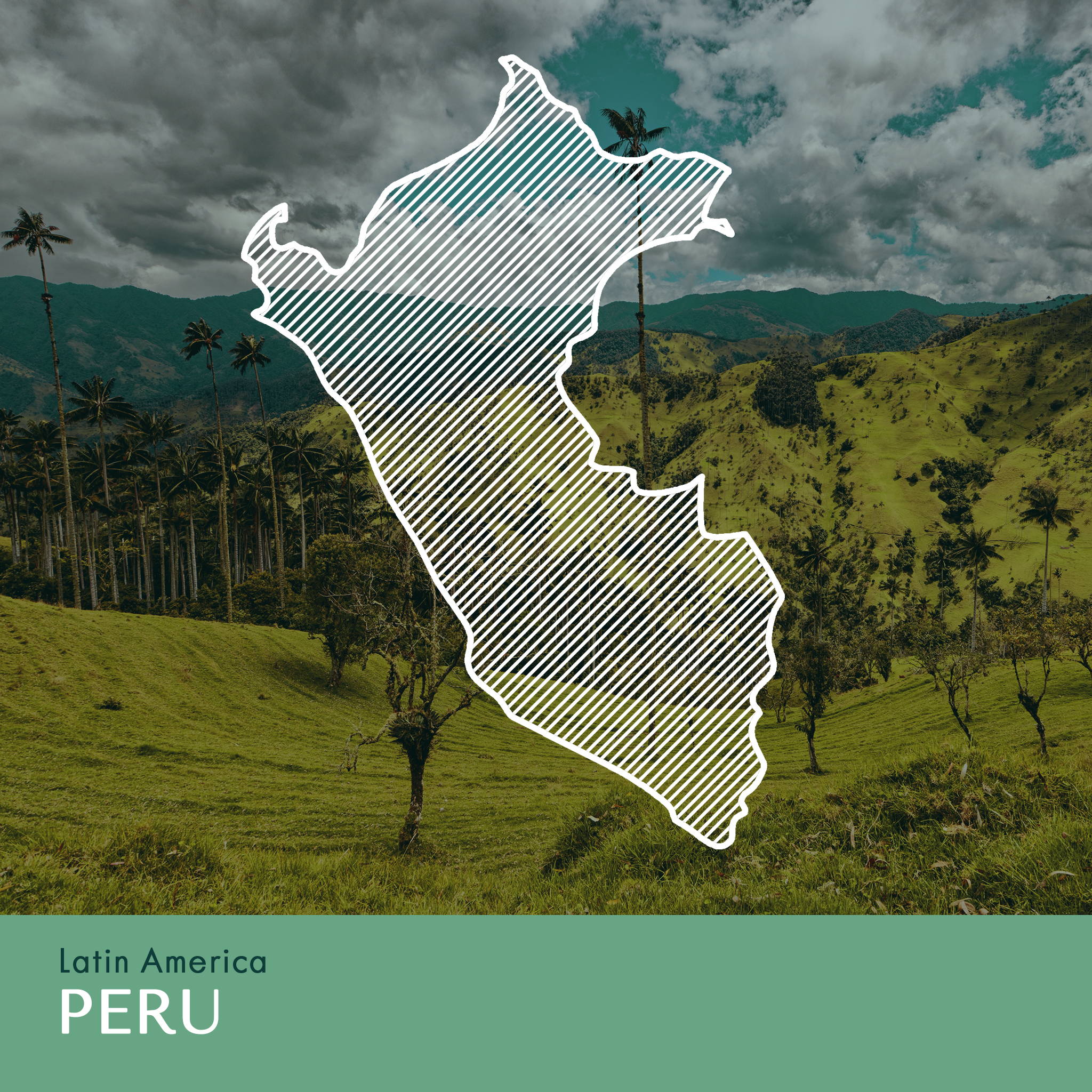 Nestled within Peru's lush landscapes and diverse climate, coffee cherries thrive on elevated farms like those found in the Andes. The higher altitude slows the maturation process, creating flavour profiles with remarkable depth and complexity — even more so on organic farms.
By committing to farming without synthetic pesticides and in sync with seasonal rhythms, our producing partners foster biodiversity that enriches both the coffee they grow and neighbouring crops.
The result is a healthy harvest of coffee with unique and lively flavour profiles, balanced acidity, and smooth body.
COFFEE BEANS FROM ETHIOPIA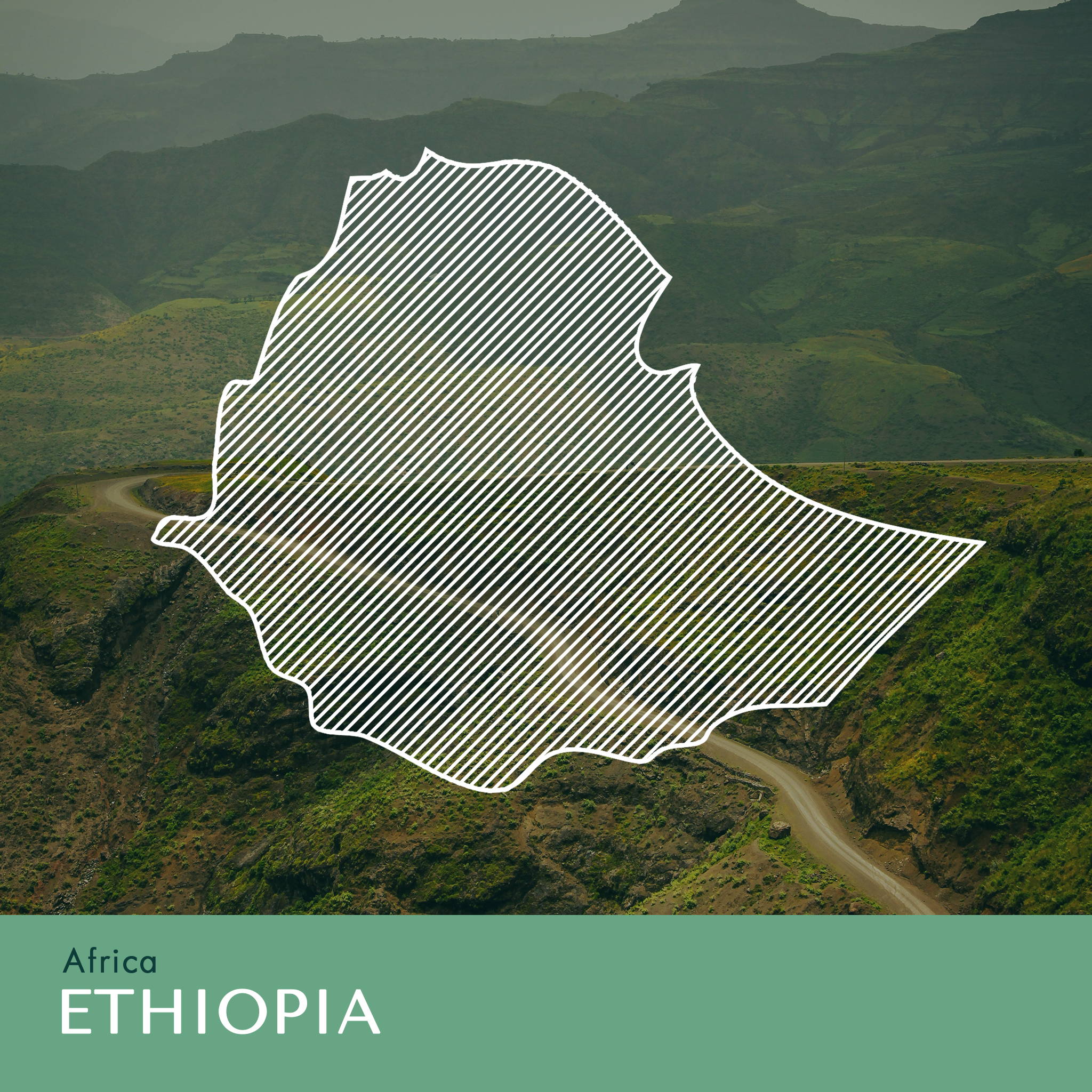 Widely considered to be the birthplace of coffee, Ethiopia has a rich history of coffee cultivation. The marriage of ancient tradition and biodynamic farming embraced by organic coffee farmers make the region a favourite among coffee connoisseurs.
Free from chemical pesticides and cultivated in harmony with the seasons, the coffee plants grow synergistically with the local ecosystem, preserving the soil's fertility and maintaining ecological balance.
The beans we receive from these farms give our blends a splash of brightness and fruity acidity that makes each cup taste like more.
COFFEE BEANS FROM SUMATRA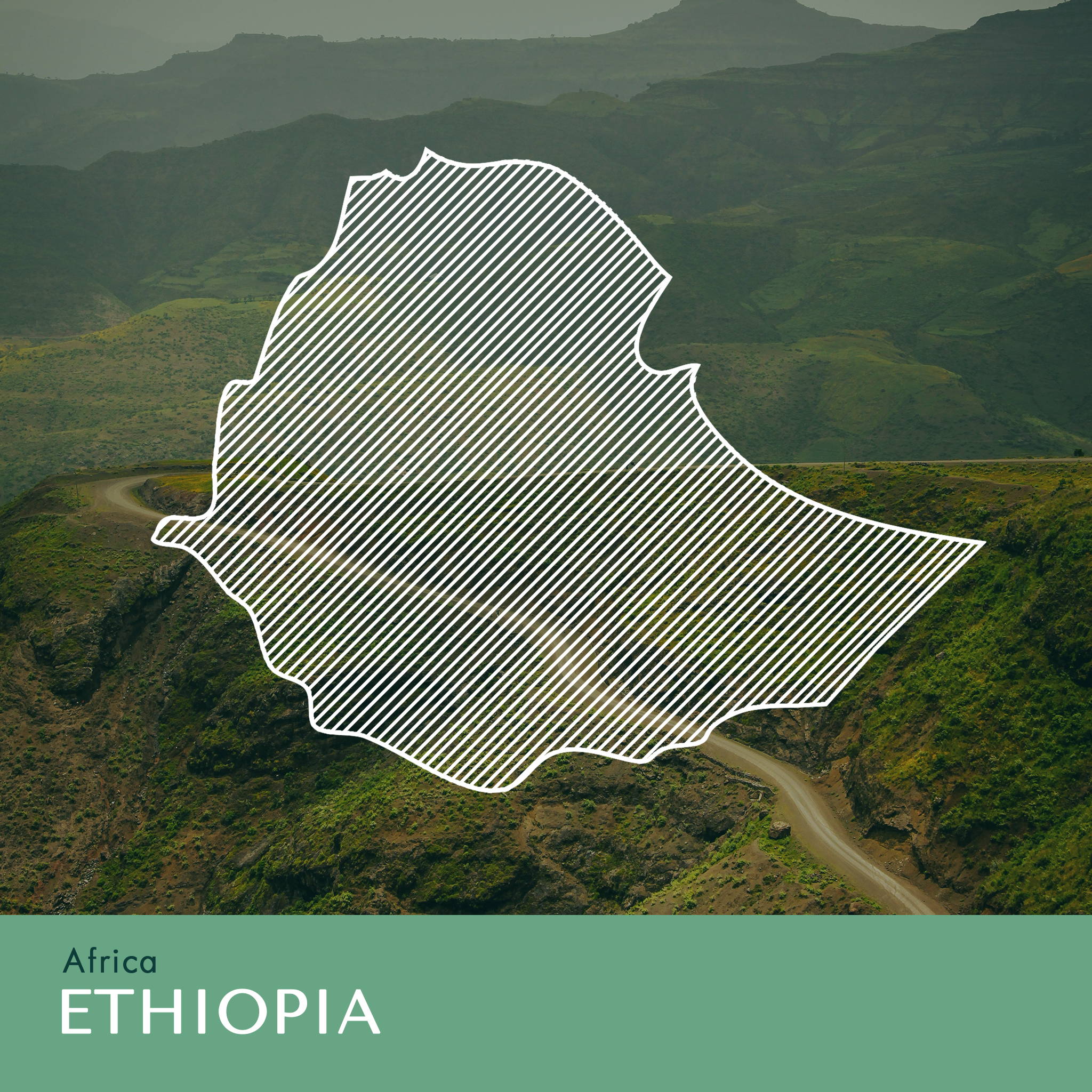 The volcanic soils and tropical climate of Sumatra are ideal for growing bold and full-bodied coffee. The region is well-known for producing beans with deep chocolate notes, herbal overtones, and hits of spice, a combination that brings depth to our Organic Darkwoods Espresso.
We've partnered with some outstanding organic coffee farmers in Sumatra, whose sustainable cultivation methods have strengthened the soil quality, nourished the local ecosystem, and supported the local community over decades of painstaking labour.
Given the superior quality and taste profile of their beans, it's well worth the effort!
DARKWOODS COFFEE PROCESSING METHODS
In addition to its natural terroir, our Darkwoods Coffee gets its delicious flavour and texture from several different post-harvest processing methods. Each of these has a particular effect on how that beautiful terroir is pronounced in the cup, making it all the more vital that they be conducted with great care. Here's an overview of the processing methods our producing partners use to bring you our Darkwoods Coffee: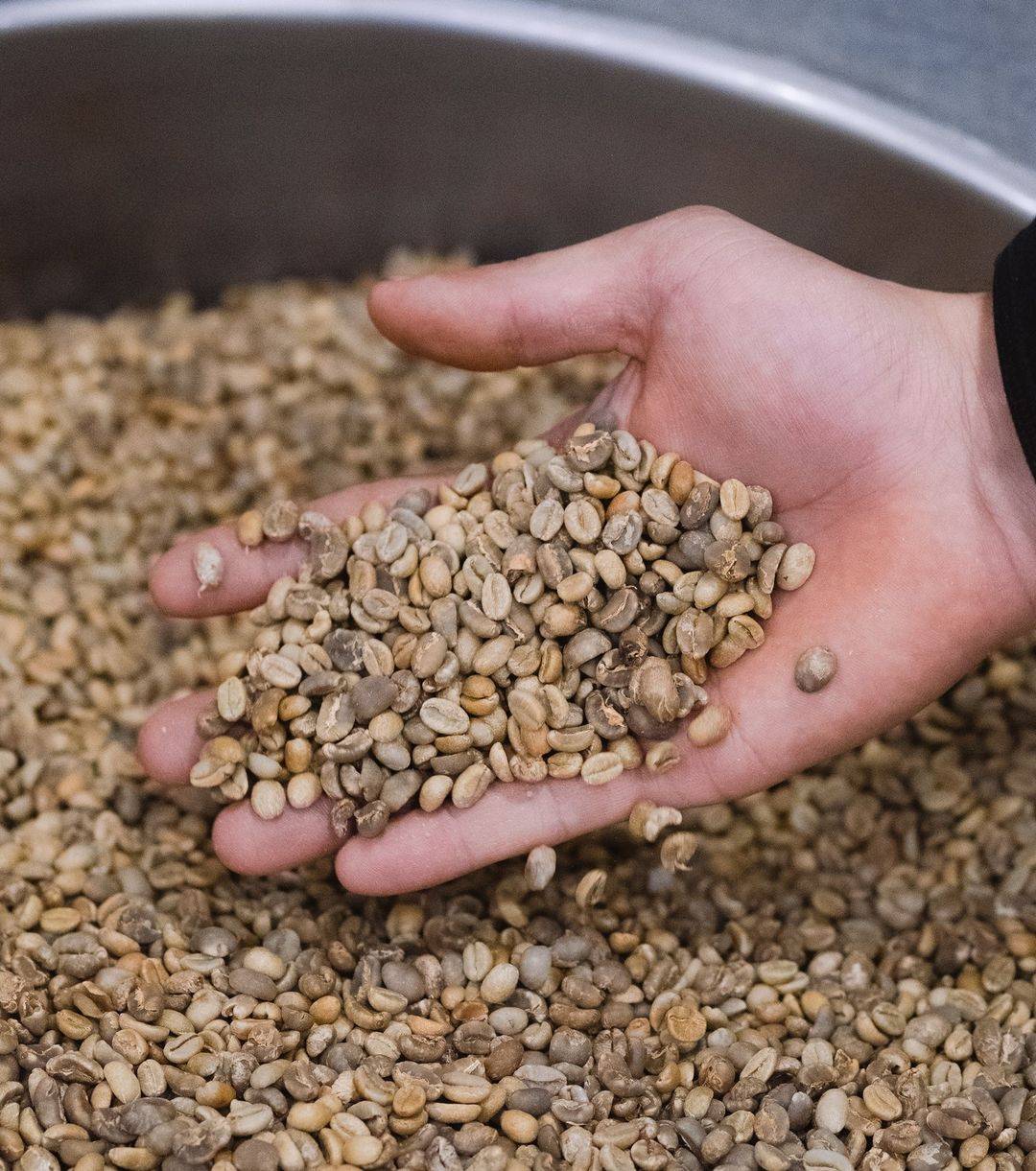 FULLY WASHED
Coffees that are fully washed have had the fleshy fruit of the coffee cherry removed (or de-pulped) from the seed before fermentation. The de-pulped seeds (coffee beans) are fermented in water for 24-48 hours, breaking down any remaining pulp. After a thorough wash, the beans are dried and stored for export. Fully washed coffees typically have a clean flavour profile, authentic to the terroir and the coffee varietal.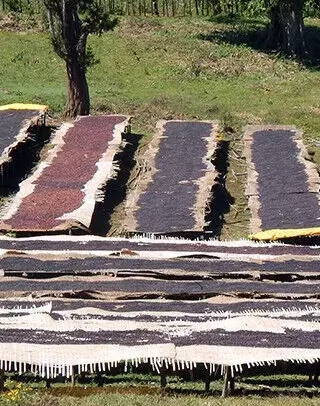 Raised Beds
Also known as African drying beds, the raised beds used by our partners in Ethiopia are an economical way to enhance coffee quality and flavour. After harvest, the coffee cherries are de-pulped and the seeds are laid out to dry on elevated surfaces (typically made from mesh or wooden slats). This allows air to circulate and dry the beans evenly without becoming moldy. It also gives producers more control over the rate of drying, which makes it easier to achieve a consistent taste profile.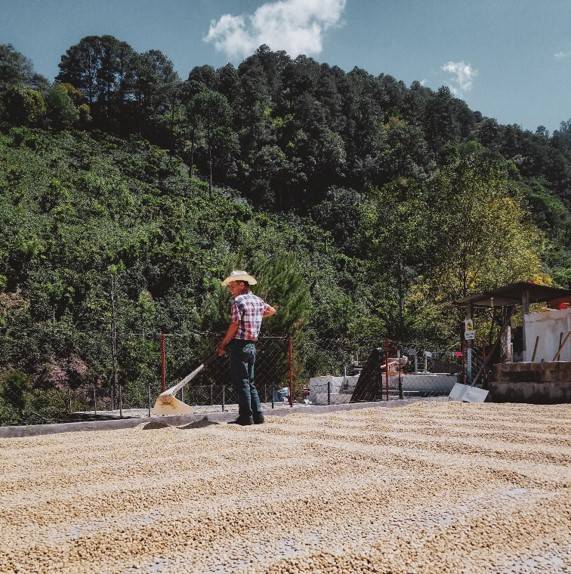 Wet-Hulled
In the wet-hulled method, the outer skin of the coffee cherries is removed and the beans, still encased in their parchment layer, dry only partially under the sun or in mechanical dryers. At the end of that stage, the beans have a moisture content of about 30%. Next, the parchment layer is removed (or wet-hulled) and the beans are dried further, until the moisture content is around 11-12%. This creates a full-bodied, earthy flavour profile with low acidity.
HOW IS THE DARKWOODS COFFEE ROASTED?
Our coffees are all roasted in our carbon neutral facility here on the west coast of BC. For the Darkwoods Coffee, we roast the beans just long enough to caramelize the natural sugars and accentuate the terroir. This is a process called the Maillard Reaction, which gives many of our favourite foods their delicious toasty qualities.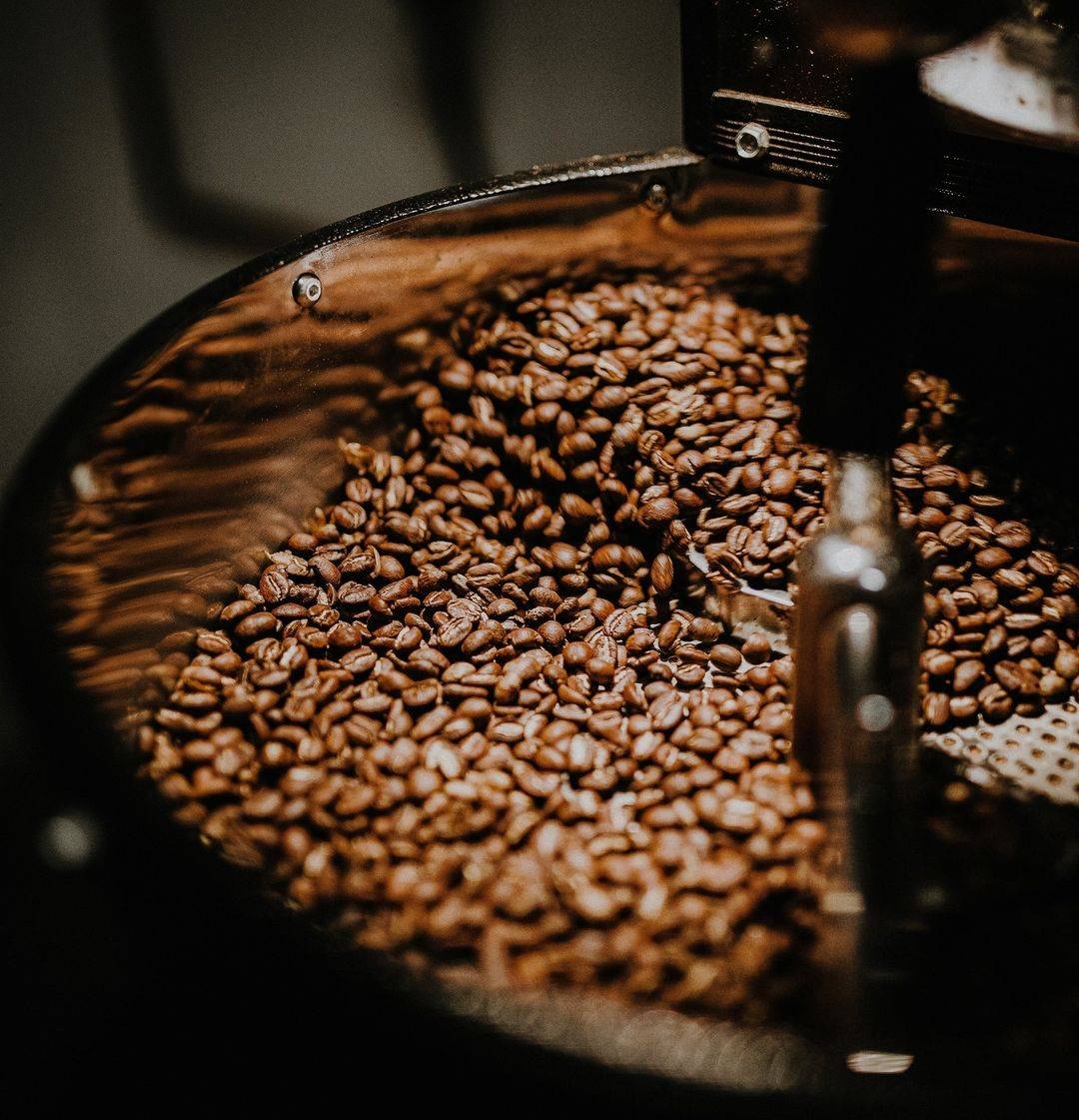 Once the beans have finished roasting, we use our cooling system to halt the Maillard Reaction and begin the degassing process, wherein the carbon dioxide accumulated during the roasting stage gradually escapes the cell walls.
We bag and seal the beans as soon as they're cool to lock in flavour and freshness, ensuring they are perfectly rested and ready to brew when they reach our customers.
DARKWOODS COFFEE CERTIFICATIONS
Our coffees are all roasted in our carbon neutral facility here on the west coast of BC. For the Darkwoods Coffee, we roast the beans just long enough to caramelize the natural sugars and accentuate the terroir. This is a process called the Maillard Reaction, which gives many of our favourite foods their delicious toasty qualities.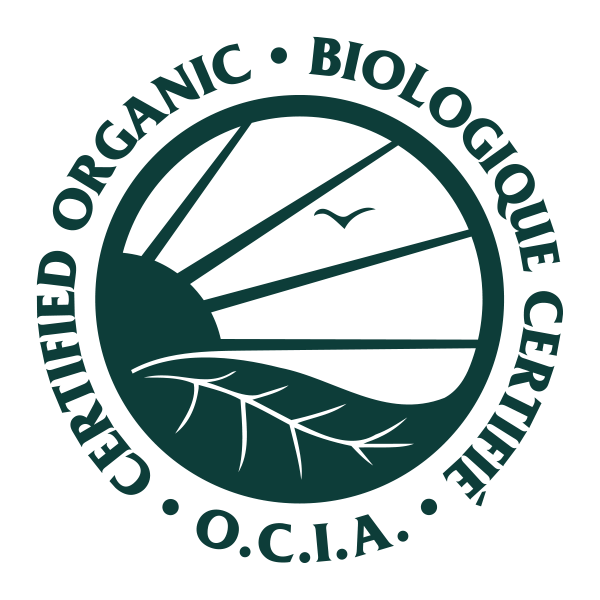 OCIA International (the Organic Crop Improvement Association International) is a non-profit organization committed to certifying and promoting organic agricultural practices. Its certifications represent a commitment to sustainable farming and environmental stewardship, protecting the integrity and authenticity of organic products worldwide. Through its rigorous certification processes and the support it provides for organic farmers, OCIA continues to foster consumer trust and facilitate the growth of organic agriculture on a global scale.
The OCIA Certified Organic criteria require that no chemical or non-natural fertilizer applications are used on fields for a minimum of three years prior to harvesting. Qualifying farms are subject to regular inspections and required to submit records of their practices each year for review. With this certification, we can confidently guarantee that every bag of Farm & Forest Darkwoods Espresso is free from synthetic pesticides, all-natural, sustainably grown, and top quality.

We work with Synergy Enterprises, a global leader in regenerative business specialising in greenhouse gas accounting, decarbonization strategies, and clean technology adoption, to reduce greenhouse gas emissions. The team helps us measure our environmental impact (from shipping and green coffee imports to energy consumption at our facility and on the road), set total impact reduction targets, and implement waste-saving strategies. Any emissions that can't be eliminated altogether we offset by purchasing verified Carbon Credits.
Even though a direct trade certification hasn't been established yet, our commitment to the wellbeing of our producing partners means so much to us that we've included it here and on each bag of Organic Darkwoods Espresso.
Direct trade makes a huge difference to us as roasters as well as the organic coffee farmers at the beginning of the seed-to-sip journey.
The connections we make with producers and their communities broadens our coffee knowledge and deepens our respect for their expertise. Working closely with these talented farmers also helps us ensure they are fairly compensated for their hard work and dedication, empowering them to reinvest in their operations and create better working conditions. It also increases incentive to farm organically, which can require more resources and skills than conventional farming. The stability that results from direct trade and organic farming has had a profoundly positive impact on coffee-growing communities, fostering sustainable development and poverty reduction.
By choosing direct trade coffee, you are supporting responsible environmental stewardship and ecological preservation in coffee-producing regions. Together we are part of a global movement that promotes social justice, ethical trading practices, and environmental sustainability.
HOW DOES THE DARKWOODS COFFEE PROTECT NATURE?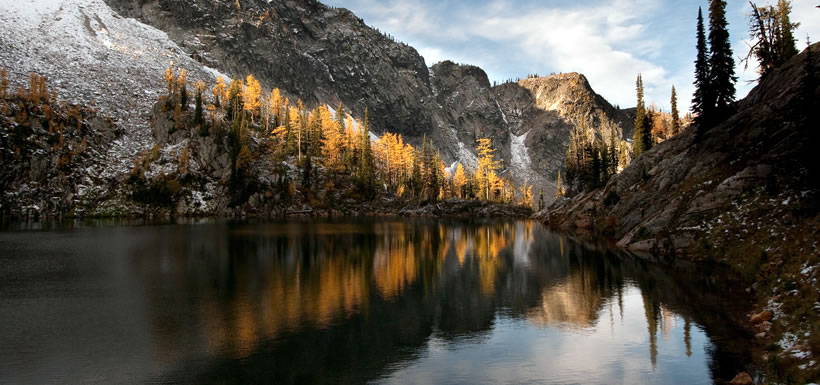 We named the Organic Darkwoods Espresso after the Darkwoods Conservation Area in southeastern BC, a stewardship project by the Nature Conservancy of Canada which encompasses over 1,100 square kilometres of parks, wildlife management areas, and conservation lands.
The landscape provides essential habitat for dozens of species at risk, including the ones after which we've named our other coffees. Our partnership with the NCC allows us to realize our vision of making coffee an avenue for climate action — 15 cents from every pound of coffee we sell goes towards NCC projects like the Darkwoods Conservation Area, which means the Darkwoods Espresso revitalizes both humans and nature.
WHAT'S THE BEST WAY TO BREW THE DARKWOODS COFFEE?
We crafted the Darkwoods Coffee as a rich, intensely satisfying espresso, although it also plays well as French Press. Here's our favourite espresso recipe:
Organic Darkwoords Espresso Recipe
Usually a 1:2 ratio of ground coffee input to liquid espresso output works beautifully with our Darkwoods Espresso. Here we're using a 18g double basket, but you can scale this recipe using the 1:2 ratio to fit your portafilter size.
You will need:
Espresso machine
Grinder (burr, if possible)
Scale (digital, in grams, if possible)
Timer
Dry cloth
Dosing cup (optional)
Small spoon
Tamper
Shot glass or cup
18g Darkwoods Espresso (plus extra for any spillage)
Step 1
Remove the portafilter from your espresso machine and flush the grouphead. Wipe out the portafilter with a clean, dry cloth.
Step 2
Place the portafilter on the scale and tare to zero.
Step 3
Grind the Darkwoods Espresso on a fine setting so the particles resemble granulated sugar. You can either grind directly into the portafilter basket, or grind into a dosing cup and invert the cup over the portafilter to transfer the grounds to the basket.
Step 4
Return the filled portafilter to the scale. Use a small spoon to add or remove espresso grounds until the scale reads 18g (you may need to grind more coffee).
Step 5
Gently tap the sides of the portafilter with the palm of your hand to settle the grounds into the basket, or use a distributor tool to make an even coffee bed. Tamp with the portafilter level to the ground and an even, vertical pressure. Brush any grounds from the rim and "ears" of the portafilter.
Step 6
Insert the portafilter into the espresso machine. Place the scale under the portafilter with the shot glass or cup on top, directly under the portafilter spout (or centred beneath the portafilter if yours is bottomless). Tare to zero.
Step 7
Initiate extraction and start the timer. Stop the shot once the scale reads 36g. The timer should read somewhere between 27-30 seconds. If it takes more or less time to reach 36g, coarsen or tighten up your grind accordingly. Swirl the shot and serve immediately.
FAQS ABOUT THE DARKWOODS COFFEE
WHERE CAN I BUY ORGANIC DAERKWOODS COFFEE?
Our list of retail partners across BC is growing! But the easiest way to find and purchase our Darkwoods Coffee is on our website, farmandforestcoffee.com. The beans are available in one-pound and five-pound bags, and we'll even grind them for you — simply select your preferred brew method during checkout.
HOW LONG WILL MY BAG OF DARKWOODS COFFEE STAY FRESH?
We bag, seal, and ship our Darkwoods Coffee right after roasting so that the beans are perfectly rested when they reach your door. Whole bean coffee is best enjoyed within 21 days of roasting; ground coffee should be used within 1 week.
I DON'T HAVE AN ESPRESSO MACHINE. cAN I BREW THE DARKWOODS ESPRESSO SOME OTHER WAY?
Yes! We find the Darkwoods Espresso brews up beautifully in a French press, and many of our customers enjoy it as drip, too. We find the notes of red fruit come through even more prominently when brewed with a French press or drip coffeemaker.
WHAT PAIRS WELL WITH THE DARKWOODS ESPRESSO?
As espresso, the Darwoods Espresso is delicious with steamed dairy or plant-based milk, served in a latte, cappuccino, or cortado. It's also excellent over ice or, for a special treat, over ice cream in an affogato. The shots have lots of rich, creamy chocolate notes that pair well with desserts without taking the sweetness over the top, and just enough acidity to keep a lively profile. As espresso or French press, it makes a great companion for your favourite breakfast pastry, peanut butter and jelly sandwiches at a picnic, and a shot of Baileys or brandy in a thermos on the hunt for the perfect Christmas tree.
WHAT CAN I DO WITH MY SPENT DARKWOODS COFFEE GROUNDS?
We're all about zero waste here at Farm & Forest Coffee, so we put our spent coffee grounds in the compost, or sprinkle it over our garden beds. We've also used the grounds to scrub tough spots off pots and pans (but don't try this on non-stick surfaces!). Other inventive uses include body scrubs, flea deterrent, mushroom cultivation, and odour neutralizers.
CAN I SIGN UP FOR A DARKWOODS COFFEE SUBSCRIPTION?
Yes! We offer weekly and monthly subscriptions for our Organic Darkwoods Coffee — plus you save 5% on each bag! Choose the "SUBSCRIBE & SAVE" option when you shop our Darkwoods Coffee or learn more about our subscriptions here.
WHERE CAN I LEARN MORE ABOUT HOW THE DARKWOODS ESPRESSO SUPPORTS WILDLIFE CONSERVATION?
Find more details about our partnership with the Nature Conservancy of Canada, and how every bag of our Organic Darkwoods Espresso supports wildlife conservation projects in Canada, here on our website. Visit natureconservancy.ca to learn all about the species our Organic Darkwods Espresso helps protect!
---