Organic Selkirk Moose Coffee Profile
As solitary as the Selkirk Moose might be, our Organic Selkirk Moose coffee is a real crowd-pleaser! We sourced this coffee from a single organic farm in the Huehuetenango region of Guatemala, and roasted the beans just enough to draw out warm honey sweetness without overshadowing its enticing terroir. It's a coffee with enough raw sugar sparkle to liven up the palate, yet enough subtlety to sip and enjoy all day long.
To further enhance the experience, we present an in-depth exploration of our Selkirk Moose coffee — where it comes from, how we roast it, and all the steps in between — so you can be empowered as you brew it. A little context goes a long way, especially when it connects us in meaningful ways to the people and places that make possible this daily ritual. So please, read on to learn all about the Organic Selkirk Moose coffee and how best to enjoy it!
In this article, we'll cover the following topics:
What does the Selkirk Moose Coffee taste like?
Organic Selkirk Moose Coffee attributes at a glance
Origins: Where does the Selkirk Moose Coffee come from
Selkirk Moose Coffee processing methods
How is the Selkirk Moose Coffee roasted?
Selkirk Moose Coffee certifications
How does the Selkirk Moose Coffee protect nature?
What's the best way to brew our Selkirk Moose Coffee
FAQs about the Selkirk Moose Coffee
WHAT DOES THE SELKIRK MOOSE COFFEE TASTE LIKE?
The Selkirk Moose Coffee has a light and sweet flavour profile, with the warmth and weight of wild honey rounded out by a splash of red grape acidity. Such a sweet medium roast shines beautifully as a pour over, and even more so with a Chemex, which clarifies the raw sugar notes and brightens up the profile even more.
This coffee is a reliable winner among coffee-drinkers of all sorts, perfect for family-style brunch or mid-afternoon board meetings. It has fortified our team on brisk fall days with countless leaves to rake, on misty morning kayak excursions around the Gulf Islands, and on afternoons when after school pick-up and drop-offs at numerous extra-curricular activities seem to take hours. It's a great pairing for avocado toast (especially with a bit of cheese on top), grilled corn under the summer sun with lots of butter, and a slice of classic vanilla cake at a party.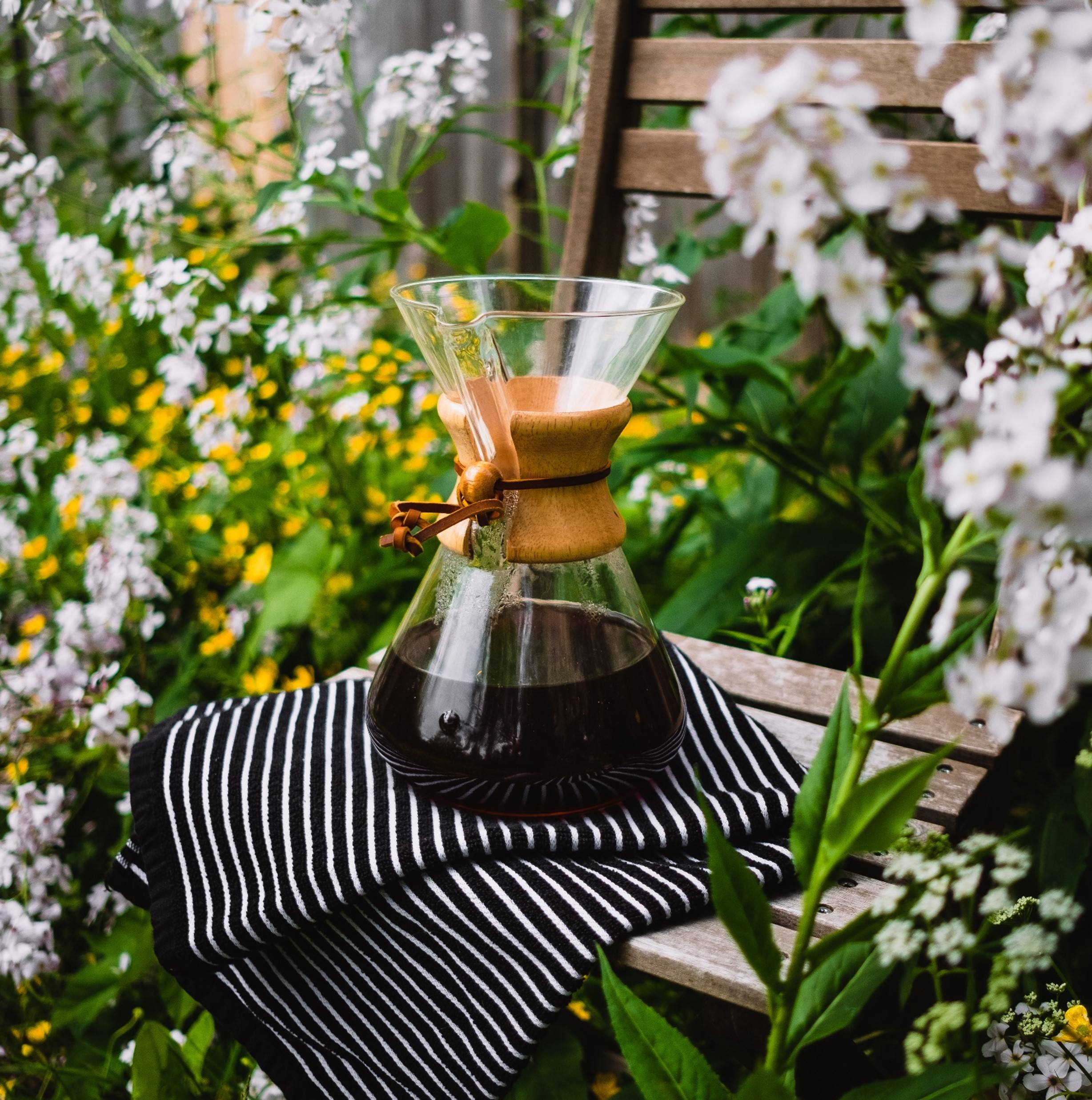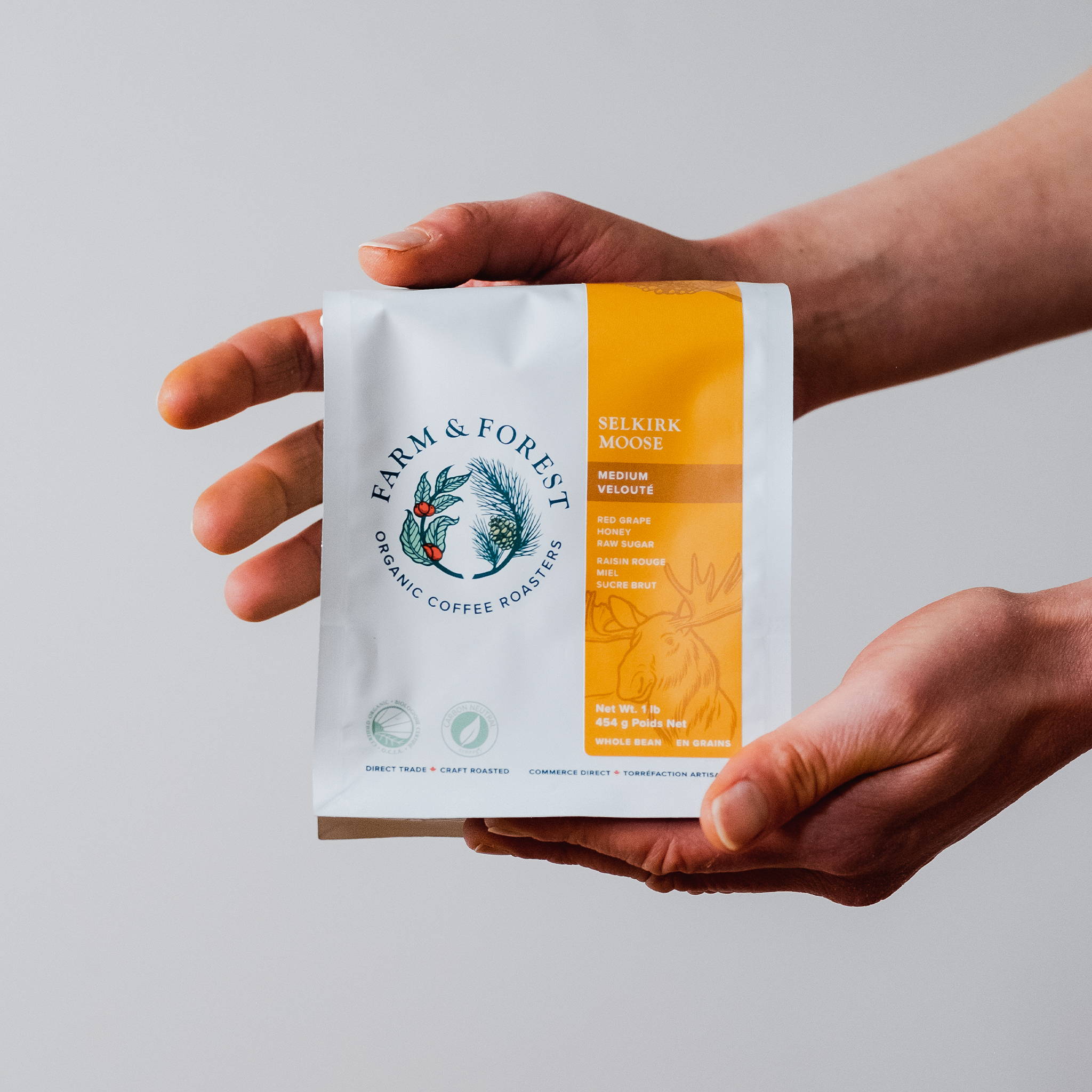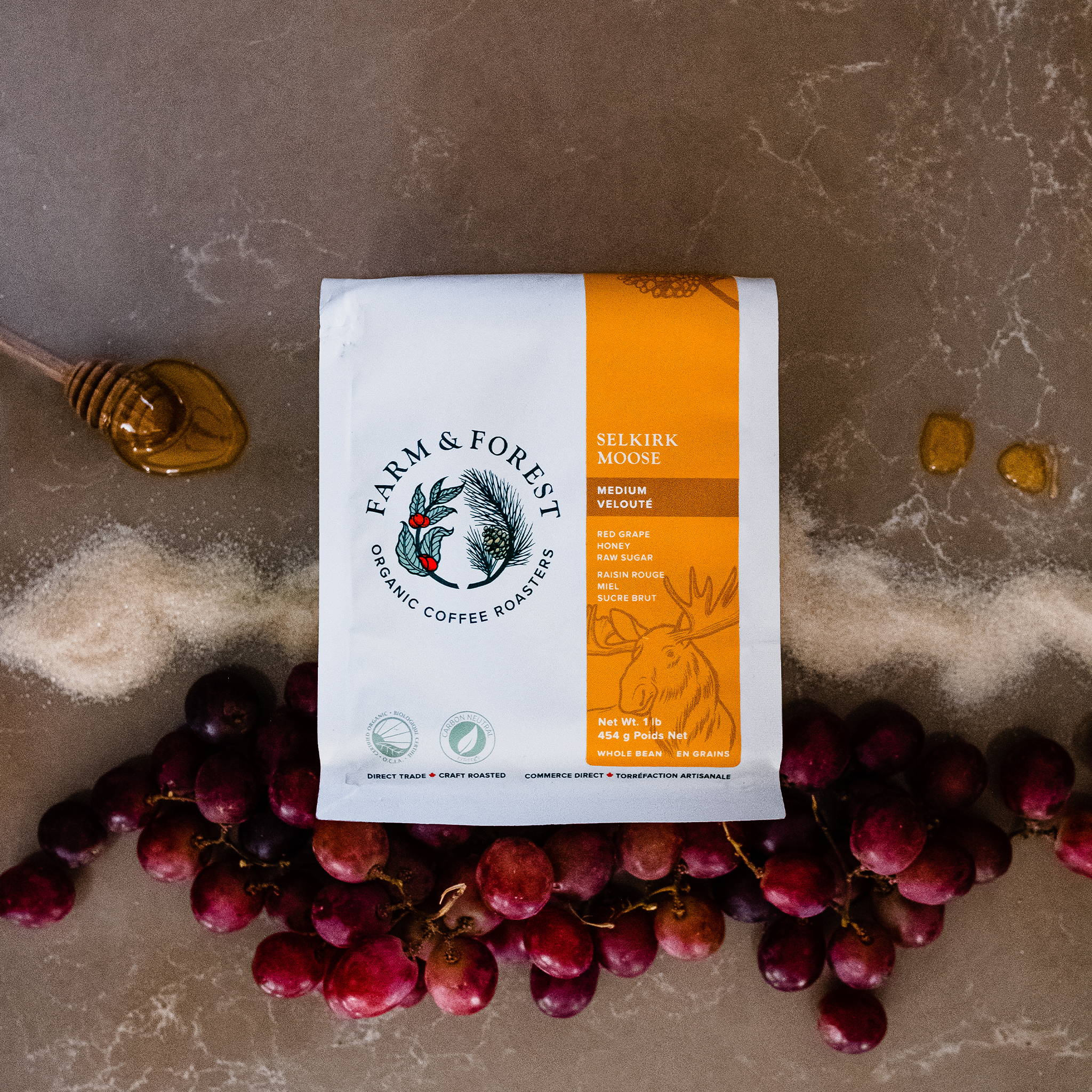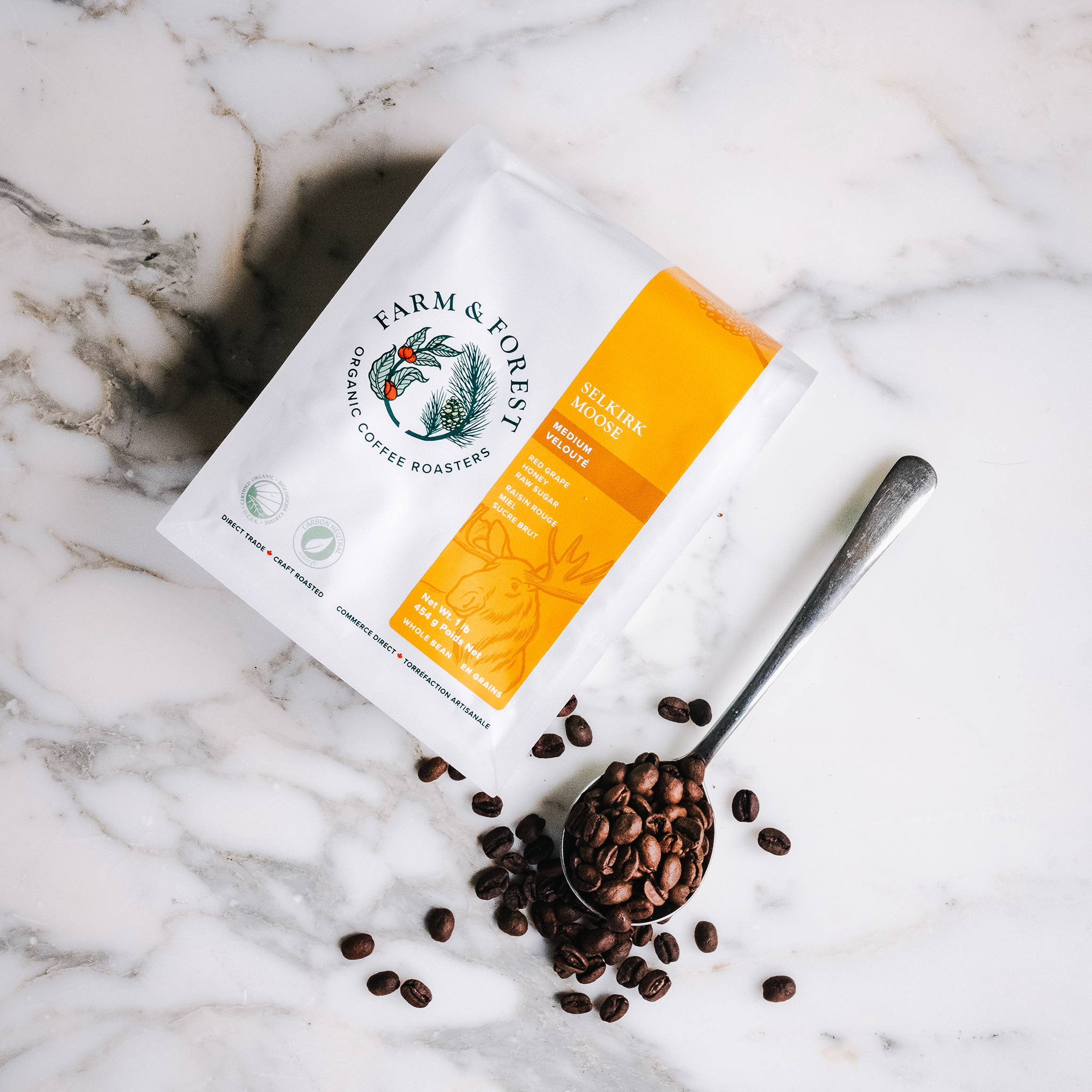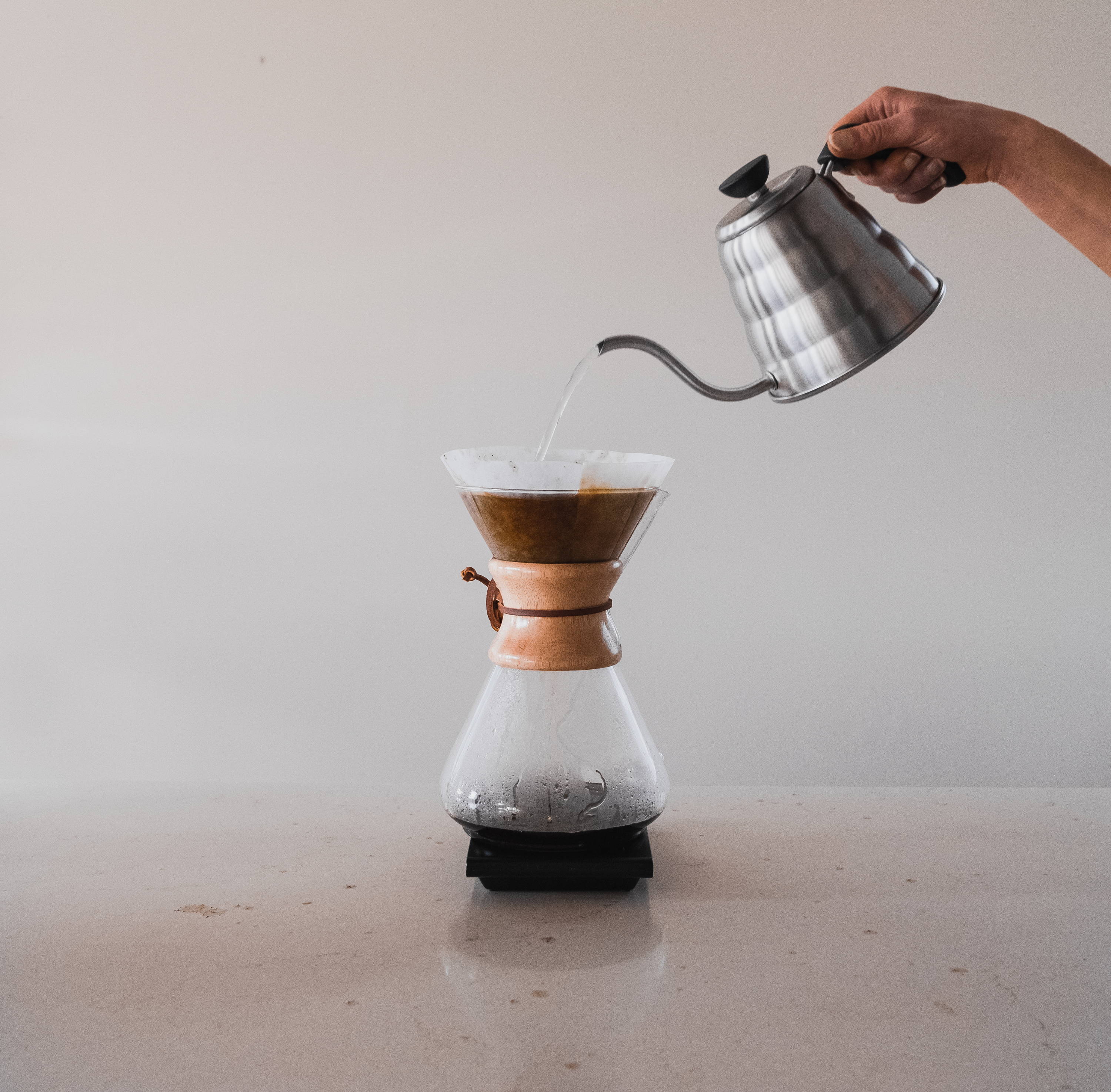 ORGANIC SELKIRK MOOSE ATTRIBUTES AT A GLANCE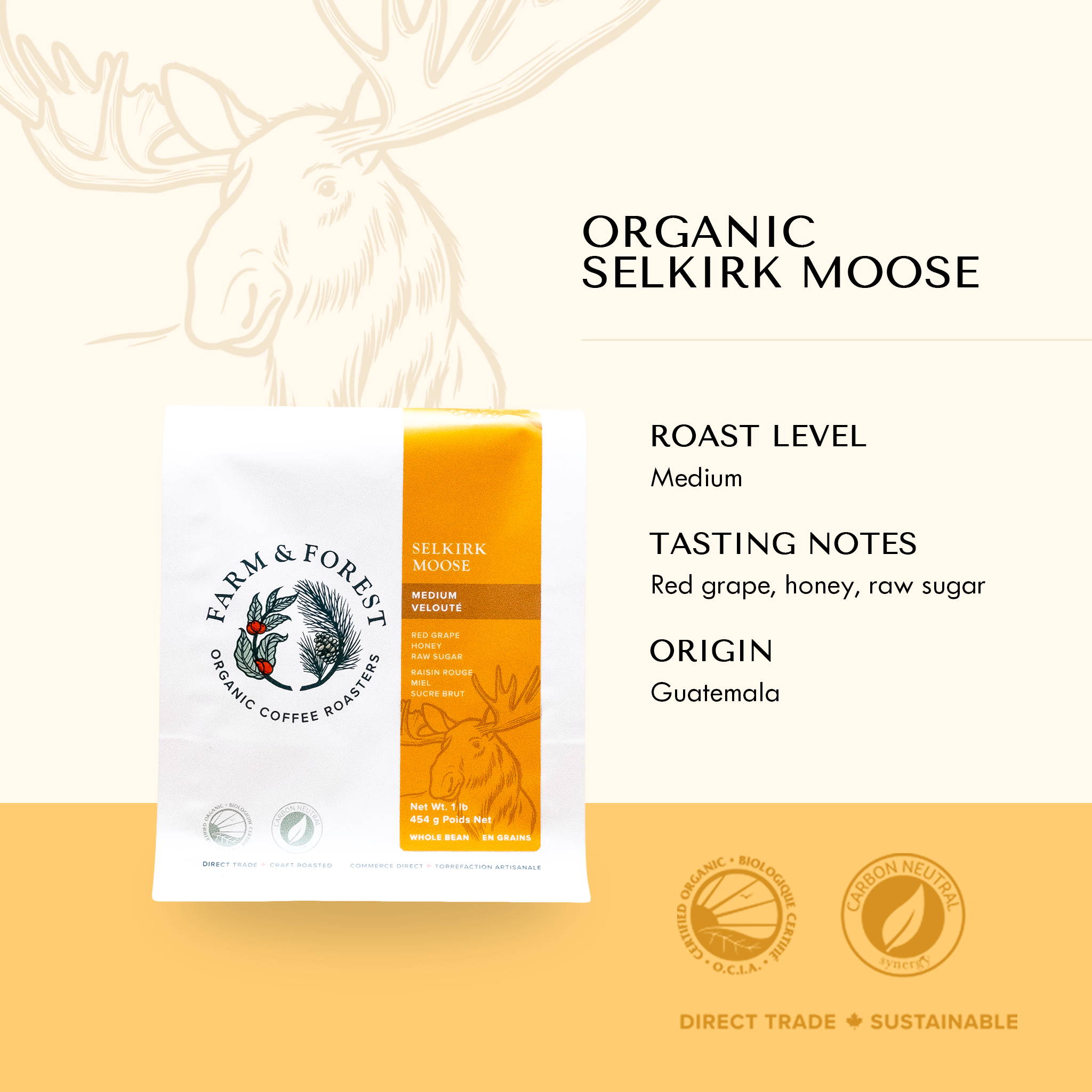 Certifications: OCIA Certified Organic, Direct Trade, Carbon Neutral
Growing Regions: Huehuetenango, Guatemala
Process: fully washed
Altitude: 1700-1900 MASL
Roast Level: medium roast
ORIGINS: WHERE DOES THE SELKIRK MOOSE COFFEE COME FROM?
We selected this particular coffee from those grown by our producing partners in Guatemala for its nuance and its gentle body. All our coffees are specialty-grade (rated 80 or above on a 100-point scale), certified organic, and ethically sourced, and this one is exceptionally clean on the palate. It's also grown in a community that benefits greatly from the organic farming practices used by our partners, and the investment made into their vital infrastructure.
COFFEE BEANS FROM GUATEMALA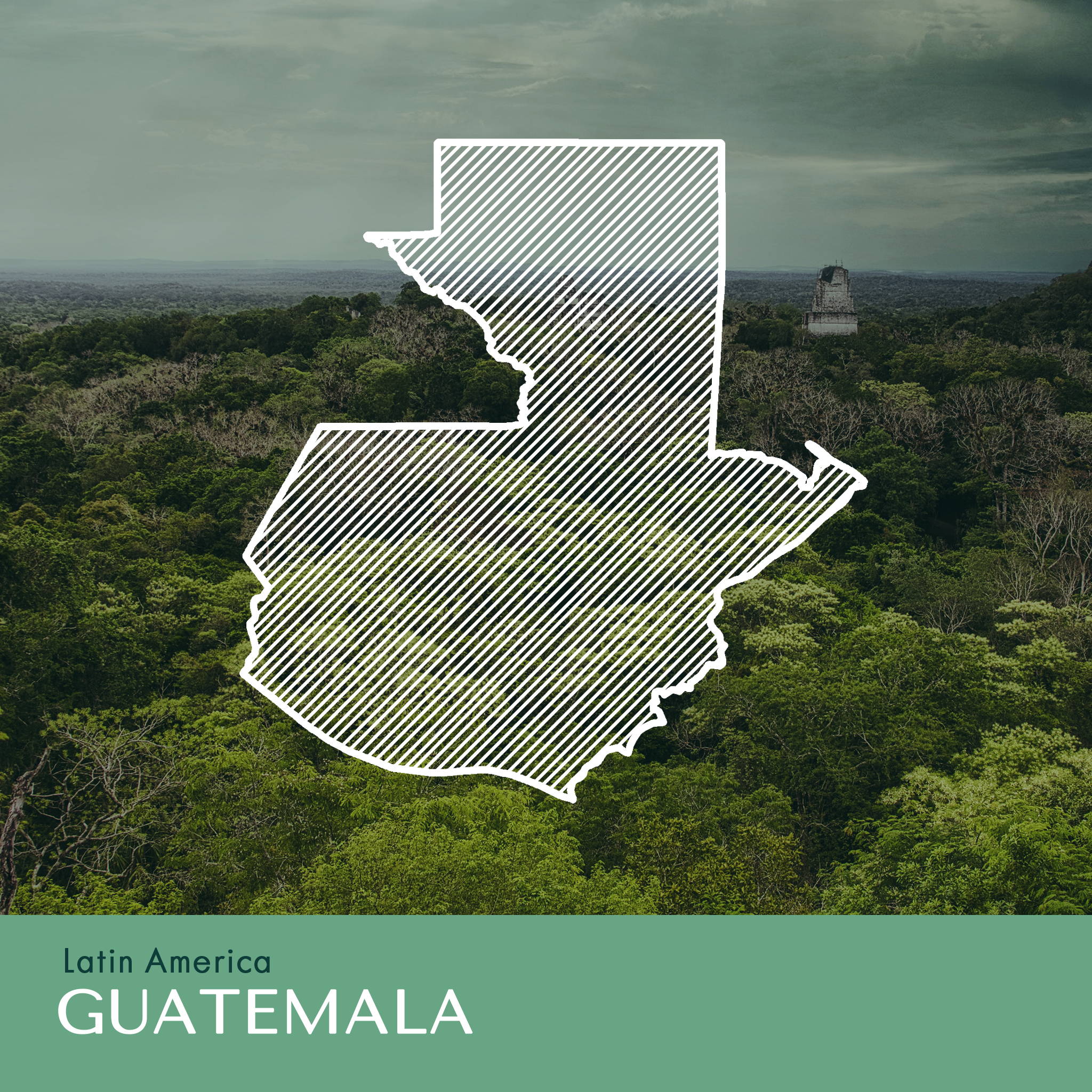 Grown amidst vibrant highlands and steep valleys, coffee from Huehuetenango has a distinctive flavour profile that reflects the rugged beauty of the region.
The altitude and cool temperatures create a playful interplay of vibrant acidity, floral undertones, and pops of fruit in the cup.
With its enchanting aroma and complex taste, Huehuetenango coffee embodies the artistry of local farmers and the rich land from which it originates, providing an exquisite experience for coffee enthusiasts worldwide.
SELKIRK MOOSE COFFEE PROCESSING METHODS
The soil, temperatures, altitude, and humidity have a large impact on flavour development, but the steps that follow play an important role in the final outcome. That's why we work so closely with our partners at origin, who process our Selkirk Moose Coffee with immense care. Here's an overview of they method they use to turn the freshly harvested coffee cherries into the green coffee we receive at our roastery: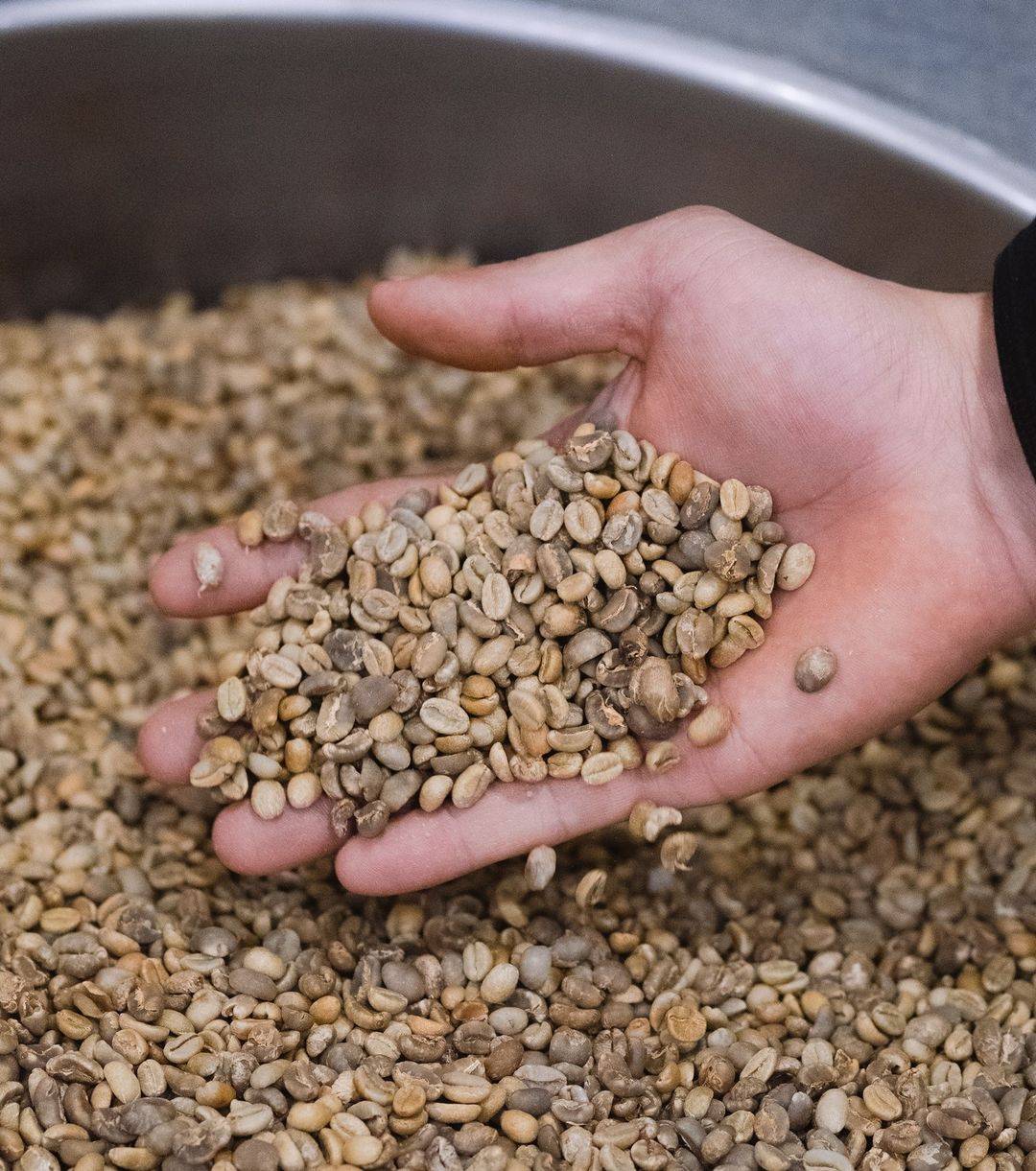 FULLY WASHED
First, the outer flesh (known as mucilage or pulp) of the coffee cherry is entirely removed from the coffee seed inside. Then, the beans are fermented for 24-48 hours, during which microorganisms break down any remaining fruit on the beans. Next comes a thorough wash in water followed by a drying phase under the sun or in mechanical dryers. Finally, the beans are stored and prepared for export. This process creates a clean flavour profile, authentic to the natural terroir and the coffee varietal.
HOW IS THE SELKIRK MOOSE COFFEE ROASTED?
We roast all our coffees in our carbon neutral facility here on the west coast of BC. To enhance the sweetness and fruity notes of the Selkirk Moose coffee, we roast the beans just long enough for the sugars to caramelize and for the warm toasty flavours to develop.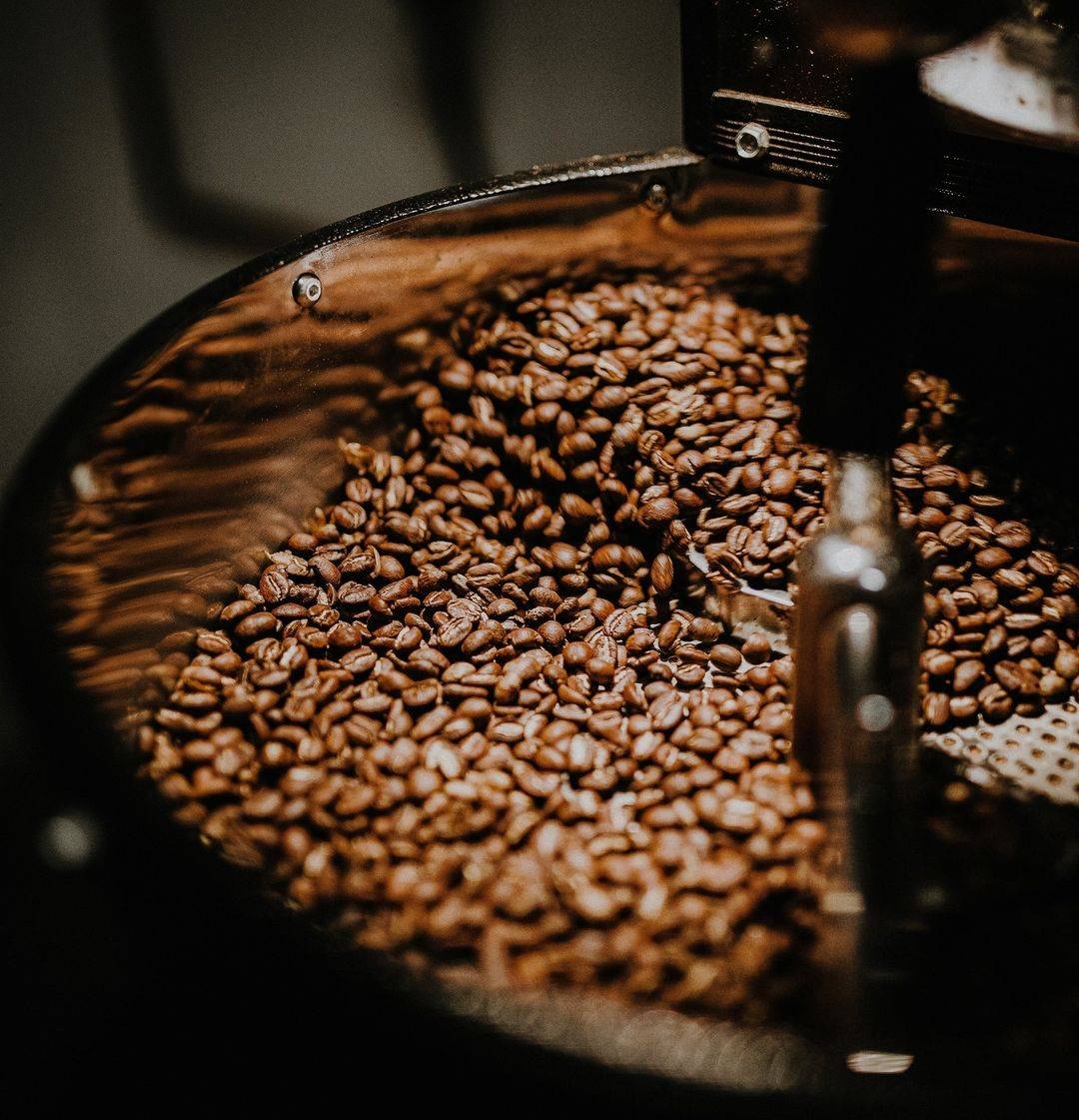 The we halt the roasting process just after second crack, which is the second time since entering the roasting drum that the cell walls of the beans release steam and emit a series of popping sounds. Once in the cooling tray, the beans begin to degas, releasing the carbon dioxide that gets trapped in the cells during roasting. We seal the beans in bags as soon as they're cool to preserve freshness and prepare for delivery, to ensure the coffee is at the optimal point of freshness when it reaches its destination.
SELKIRK MOOSE COFFEE CERTIFICATIONS
For us, a coffee's origin and its impact on the planet are just as important as the way it tastes. That's why we've collaborated with globally-recognized institutions to certify that our beans improve the well-being of the people who produce it and the surrounding ecosystems. Here are the certifications that such authorities have granted our Selkirk Moose coffee: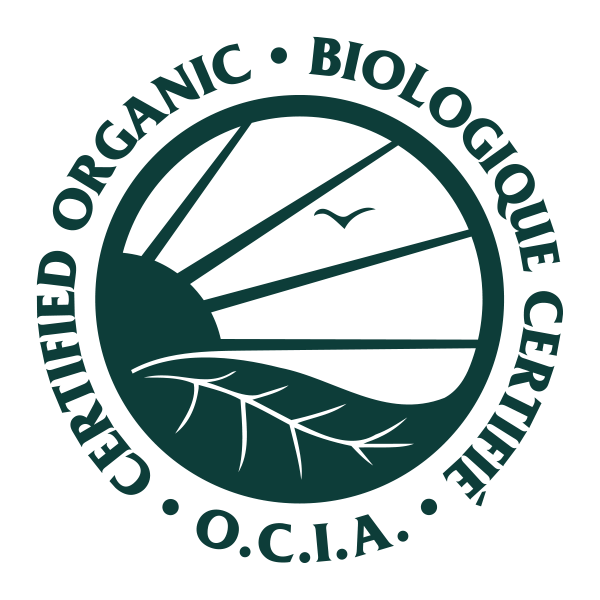 OCIA International, or the Organic Crop Improvement Association International, is a non-profit organization dedicated to promoting and certifying organic agricultural practices. With a strong commitment to sustainable farming and environmental stewardship, OCIA International plays a crucial role in ensuring the integrity and authenticity of organic products worldwide.
Through its rigorous certification processes and support for organic farmers, OCIA International continues to be a leading force in the organic industry, fostering consumer trust and facilitating the growth of organic agriculture on a global scale. The criteria they use guarantee no chemical or non-natural fertilizers have been applied to fields for a minimum of three years before harvest. Each qualifying farm is required to keep and submit detailed records of its agricultural practices, and is inspected annually by an impartial agency. The certification gives us full confidence that every bag of Farm & Forest Selkirk Moose Coffee is pesticide-free, all-natural, sustainably grown, and top quality.

Year after year, Synergy Enterprises has helped us reduce our net global greenhouse gas emissions and achieve carbon neutrality. We take our environmental responsibility very seriously, and we're so proud to work with a local company that can so accurately map and measure everything from energy consumption (usage at our facility as well as fuel for delivery vehicles) to total emissions (including shipping and green coffee export). Any emissions we cannot eliminate entirely we offset by purchasing verified Carbon Credits.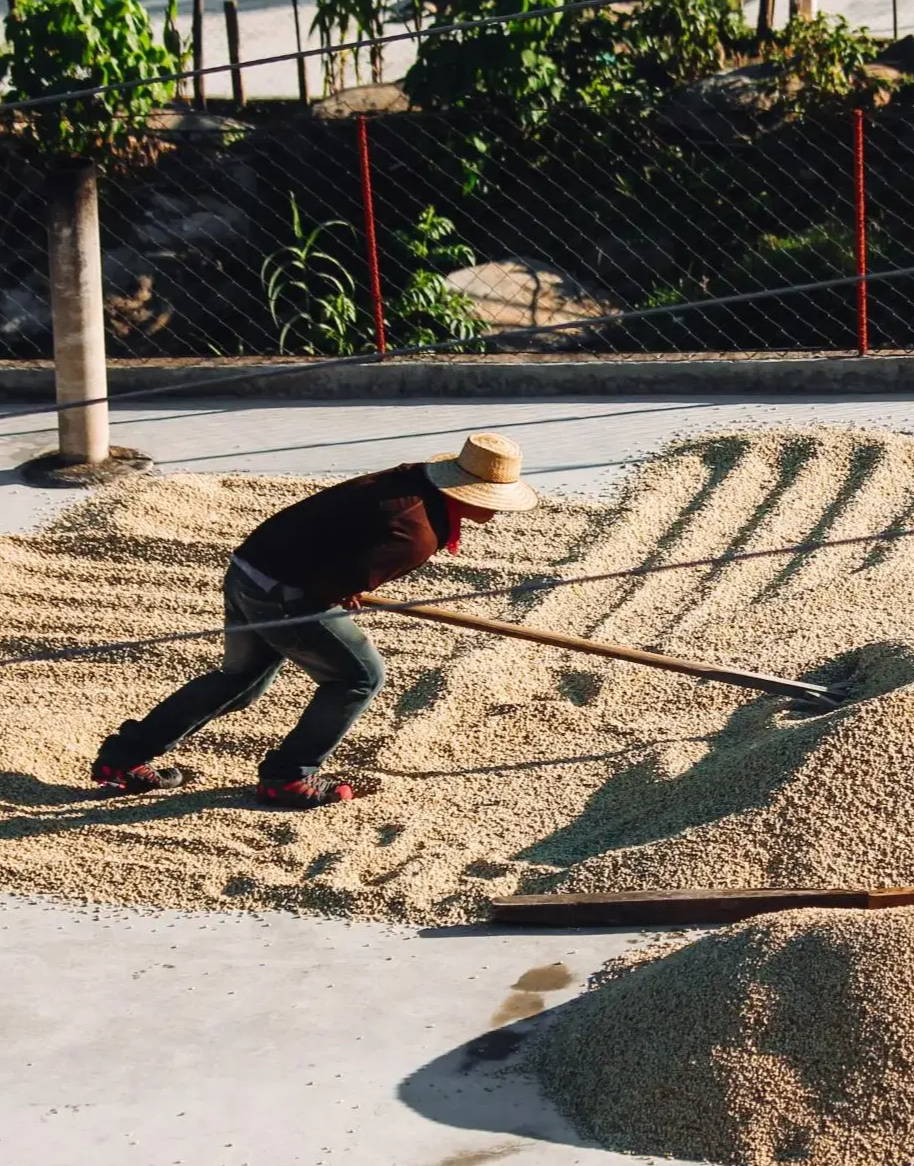 While a direct trade certification does not yet exist, we feel so strongly about our commitment to working closely with our producing partners that we've included it here and on each bag of Organic Selkirk Moose Coffee.
Direct trade coffee offers numerous advantages that make it a better choice for consumers, farmers, and the environment. Direct trade practices ensure that coffee farmers receive fair compensation for their hard work and dedication by eliminating the middleman, empowering farmers to earn a decent income, and providing them with better living conditions.
The resulting stability enhances the overall well-being of coffee-growing communities, fostering sustainable development and reducing poverty.
By choosing direct trade coffee, you not only support responsible environmental stewardship but also contribute to the preservation of delicate ecosystems in coffee-producing regions, participating in a global movement that promotes social justice, ethical trading practices, and environmental sustainability.
HOW DOES THE SELKIRK MOOSE COFFEE PROTECT NATURE?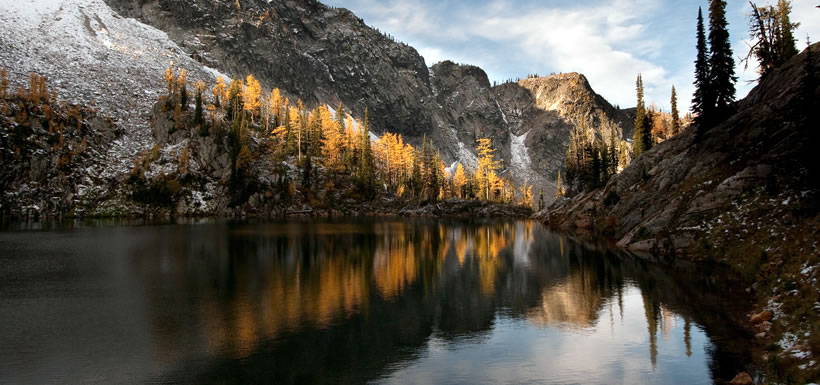 For every pound of Selkirk Moose Coffee sold, we donate 15 cents to the Nature Conservancy of Canada, whose conservation projects preserve critical habitat for endangered species across Canada.
Our partnership with NCC focuses on the Darwoods Conservation Area in southeastern BC, which is home to Selkirk Moose and many other species. By supporting NCC, we hope to prove that coffee can be an avenue for climate action, not only through net-zero production but through active environmental restoration.
WHAT'S THE BEST WAY TO BREW THE SELKIRK MOOSE COFFEE
With such a nuanced, ambrosial profile, the Organic Selkirk Moose is ideal for brewing with the Chemex. The clarity achieved with this brew method brings out the delicate raw sugar notes and accentuates the red grape acidity more than any other method we've tried. That said, any other pour over method works well with this particular coffee. Here's our go-to Chemex recipe:
ORGANIC SELKIRK MOOSE COFFEE CHEMEX RECIPE
Use a 1:16 coffee-to-water ratio and a medium-coarse grind; you can always grind a little finer for a slightly stronger flavour.
You will need:
6 cup Chemex Filter

Kettle (gooseneck, if possible, for precision)

Grinder (burr, if possible)

Scale (digital, in grams, if possible) 
Timer

50g Selkirk Moose coffee

800g water (195-200°F) plus extra for preheating

 
Step 1
Place the filter in the top of the Chemex with the three-layered portion towards the spout. Pour some of the hot water into the filter to wet it and preheat the Chemex. Discard the water after a few moments.
Step 2
Grind the coffee on a medium-coarse setting so the particles resemble coarse sand. Add the grounds to the filter, place the Chemex on the scale, and tare to zero.
Step 3
Start the timer and pour 100 grams of water over the grounds, ensuring they are evenly saturated. Allow the coffee to bloom (swell like a mushroom cloud as carbon dioxide escapes) for 30 seconds.
Step 4
Begin another pour in a circular fashion, starting in the middle and working your way outward until the dripper is half-full. Continue adding water slowly in the same fashion, so the filter never fills more than half-way, until the scale reads 800g. The total brew time from start until all the water has drained from the filter should be around 5-5.5 minutes.
Step 5
Remove and compost the filter and spent grounds. Gently swirl the Chemex and enjoy when it reaches your desired temperature.
FAQS ABOUT THE SELKIRK MOOSE COFFEE
WHERE CAN I BUY ORGANIC MOOSE COFFEE?
Our list of retail partners across BC is growing! But the easiest way to find and purchase our Selkirk Moose Coffee is on our website, farmandforestcoffee.com. The beans are available in one-pound and five-pound bags, and we'll even grind them for you — simply select the grinded option during checkout.
HOW LONG WILL MY BAG OF SELKIRK MOOSE COFFEE STAY FRESH?
We bag, seal, and ship our Selkirk Moose Coffee right after roasting so that the beans are perfectly rested when they reach your door. Whole bean coffee is best enjoyed within 21 days of roasting; ground coffee should be used within 1 week.
HOW CAN I KEEP THE SELKIRK MOOSE COFFEE FRESH FOR LONGER?
Our Selkirk Moose Coffee beans stay fresh when protected from oxygen, light, and heat. So the best way to store them is in an airtight, opaque container in a cool room. If you don't think you'll make it through the whole bag in 4 weeks, you can seal the beans (a vacuum-sealer works best) and freeze them — some of our customers have reported great results from beans frozen for as many as 9 months.
CAN I MAKE ESPRESSO WITH THE SELKIRK MOOSE COFFEE?
Go right ahead! Espresso is a brew method, not a type of bean, and while certain coffees are roasted with a particular brew method in mind, it's fun to switch it up. We've tried all of our coffees as espresso, and the Selkirk Moose makes a sweet, delicate shot. Give it a try!
WHAT PAIRS WELL WITH THE SELKIRK MOOSE COFFEE?
As the Selkirk Moose Coffee has such a light profile, it pairs best with delicately flavoured foods, both sweet and savory. We love it with any kind of green or grain salad at a picnic, yogurt and granola before a busy day with the family, and an almond croissant from our favourite organic bakery.
WHAT CAN I DO WITH MY SPENT SELKIRK MOOSE COFFEE GROUNDS?
We're all about zero waste here at Farm & Forest Coffee, so we put our spent coffee grounds in the compost, or sprinkle it over our garden beds. We've also used the grounds to scrub tough spots off pots and pans (but don't try this on non-stick surfaces!). Other inventive uses include body scrubs, flea deterrent, mushroom cultivation, and odour neutralizers.
CAN I SIGN UP FOR A SELKIRK MOOSE COFFEE SUBSCRIPTION?
Yes! We offer weekly and monthly subscriptions for our Organic Selkirk Moose Coffee — plus you save 5% on each bag! Choose the "SUBSCRIBE & SAVE" option when you shop our Selkirk Moose Coffee or learn more about our subscriptions here.
WHERE CAN I LEARN MORE ABOUT HOW THE SELKIRK MOOSE COFFEE SUPPORTS WILDLIFE CONSERVATION?
Find more details about our partnership with the Nature Conservancy of Canada, and how every bag of our Organic Selkirk Moose Coffee supports wildlife conservation projects in Canada, here on our website. Visit natureconservancy.ca to learn all about the species our Organic Selkirk Moose Coffee helps protect!
---